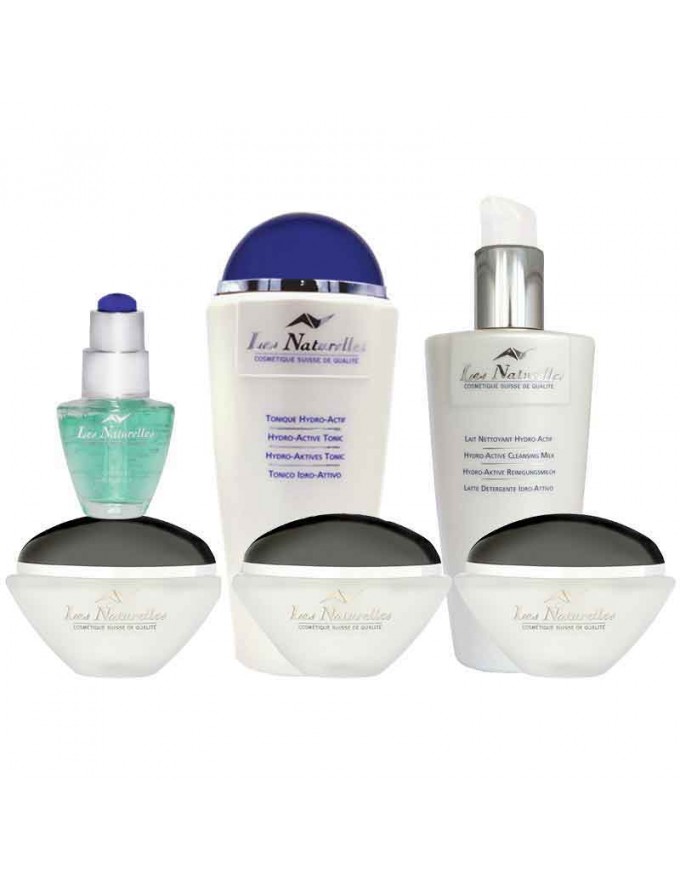  
Complete Hydro-Active line - 7990
Regulates effectively and long-lasting the skin's natural moisture balance*.
991: Hydro-Active Cleansing Milk
992: Hydro-Active Tonic
993: Hydro-Active Day Cream
994: Hydro-Active Night Cream
995: Hydro-Active Cream-Gel Mask
997: Hydro-Active Activator Complex
A correct moisture level of 10% to 20% in the stratum corneum allows the skin to retain sufficient suppleness and elasticity to ensure effective protection against external aggression and natural ageing. Skin with a tendency to dryness is more fragile and sensitive to ageing because fine lines due to dehydration become more pronounced. It is therefore essential to use specific skincare products that contain active ingredients that promote the hydration of the surface layers of the epidermis and help to reinforce the skin's protective barrier on a long-term basis against external aggressions linked to climatic variations or various pollutions.
Moisturising action of the skin surface
Smoothes wrinkles and fine lines
Protects against pollution and climatic aggression
*Hydration of the surface layers of the skin
Why use a complete product line?
Since 1978, Predige has offered complete product lines, by skin type, for several reasons:
Use the most suitable combinations of active ingredients, depending on the skin type. For example, mature skin will need more hydration than young skin, which is likely to produce excess sebum. Each active ingredient is selected and tested to provide a specific action for each skin type
Maximise the effects of the active ingredients. We use the same basic active ingredients in all the products of the same line, which allows us to accentuate their effects
Avoiding harmful interactions between active ingredients in different products
Avoid mixing fragrances between different products. Predige products in the same line have the same subtle smell because they use the same active ingredients, essential oils or fragrances
No customer reviews for the moment.
Customers who bought this product also bought: