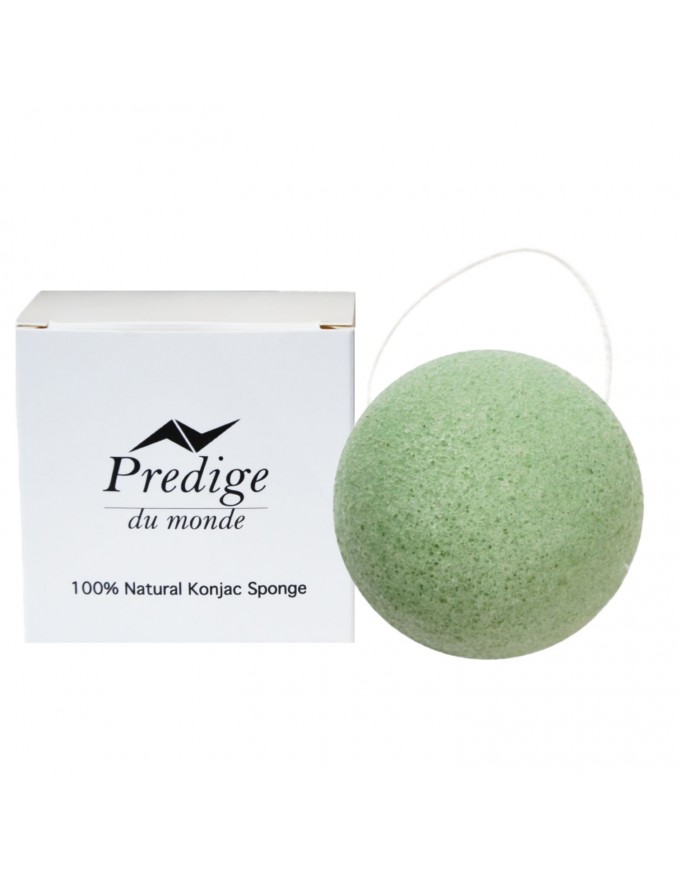  
Green Konjac Sponge - A307
Konjac sponge, for a bright and purified skin :
100% natural made of Konjac plant fibers
 With warm water, its surface becomes extra soft and smooth
It cleans, exfoliates and eliminates dead cells and excess sebum gently
Not all Konjac sponges are created equal. After a rigorous selection, we have validated two very high quality sponges, obviously natural and meeting all needs. We also tested them with water and with our products, for a more in-depth action.
Tips :


For irritated, oily or acne-prone skin, use gentle movements without rubbing. Your Konjac sponge is perfect for this

You can use shower gel to wash your sponge

After the first use, your sponge will reduce in size and will return to its original size once moistened

Some users suggest to keep the Konjac sponge in the refrigerator for a refreshing use in the morning. We were not convinced by this tip at Predige... but you can always try!

Round sponges are the most convenient to use and deteriorate the least


The Konjac root from which your Predige sponge is made has been used for centuries in Japan. It is naturally antibacterial, exfoliating and purifying, perfect for gently purifying the skin and preparing it for care. Natural, your sponge is biodegradable..
How to use :


Wet the sponge with warm water to make it soft

Gently squeeze your Konjac sponge

Clean your face by moving the sponge in a circular motion. You can use the Konjac sponge with water or with your usual facial cleanser
After each use and to maximize the life of your Konjac sponges, rinse and squeeze the sponge, without twisting it with warm water. You can wash your sponge with a mild soap
Dry your sponge in the open air in a well-ventilated place by hanging it up by the tie provided for this purpose (for example : do not leave it on the sink)
The life span of Predige Konjac sponges is generally 2 to 3 months, depending on usage. Change your sponge when it starts to fall apart
Customers who bought this product also bought: